MATAWA FIRST NATIONS MANAGEMENT MAKE A SECOND $20K INVESTMENT IN SHELTER HOUSE THUNDER BAY AND CALL FOR ACTION TO ADDRESS FUNDING, STAFFING AND FOOD SHORTAGE CHALLENGES
MEDIA RELEASE
Tuesday, April 18, 2023 | FOR IMMEDIATE RELEASE
 MATAWA FIRST NATIONS MANAGEMENT MAKE A SECOND $20K INVESTMENT IN SHELTER HOUSE THUNDER BAY AND CALL FOR ACTION TO ADDRESS FUNDING, STAFFING AND FOOD SHORTAGES
THUNDER BAY, ON: President Rosemary Moonias,  on behalf of the MFNM Board of Directors, today announced an investment of $20,000 to Shelter House Thunder Bay (SH-TB). MFNM provided the investment as an emergency interim measure to assist in the prevention of reduced services that SH-TB is currently considering.
Moonias also called for action to address emergency shelter funding, staffing and food shortage challenges currently experienced by SH-TB.  On March 23, 2023, an additional $202 million per year to address homelessness prevention and Indigenous supportive housing in the 2023-2024 Ontario budget was announced. As of this date, there have been no details provided on how these additional investments will be allocated. If an opportunity becomes available for input into decision making on this funding—MFNM is prepared to support SH-TB, Matawa First Nations Management Non-Profit Housing and other projects in northern Ontario that are supporting the most vulnerable people in Thunder Bay and the Matawa region.
Out of an estimated 75 organizations/services for emergency shelter and housing that exist in the province—SH-TB and the Salvation Army's Journey to Life Centre are the only 2 that exist in northern Ontario. In essence, southern Ontario has 98% of these services and northern Ontario has 2%. It is not known how southern Ontario organizations/services are faring with respect to being able to provide services in comparison to northern emergency organizations/services given they are funded differently (northern emergency shelters in Ontario, for the most part, receive funding from District Social Service Administration Boards).
Over the past number of years (and exacerbated by the COVID-19 pandemic over the past 3 years), SH-TB has been affected by a staffing and funding crisis that has hit emergency shelters worldwide, some of the challenges they are currently experiencing include:
SH-TB is presently working to strengthen the organization and are working to re-establish themselves as a community leader in the field.  They are seeking community partners to stand together to strategize on how they might work together to achieve this task. On May 23, 2018, MFNM made a first substantial investment  in support of the previously operated SH-TB Street Outreach Services (SOS) van which lots the ability to operate due to drops in funding. Over the past number of months, various Matawa programs like the Matawa Chiefs Council, Awashishewiigiihiwaywiin and Matawa Education have provided food supports in the amount of over $16K. On March 31, 2023, the Matawa Health Co-operative donated $2K worth of food for SH-TB's immediate food needs (see picture below).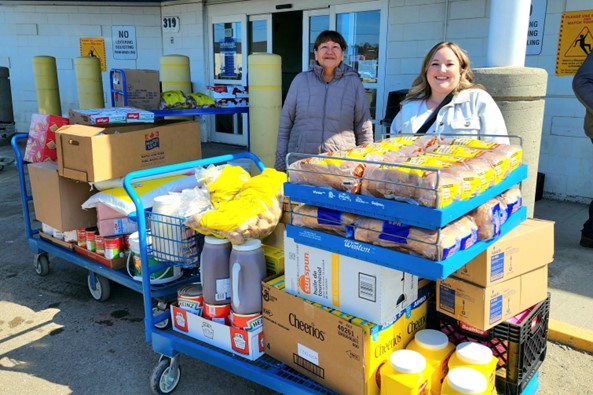 "We are very humbled to make this second $20,000 investment towards Shelter House Thunder Bay's service to the homeless. As the cost of living rises and affordable housing becomes less of a priority to governments, things are only going to get worse. I am also challenging other organizations in Thunder Bay to consider making investments to Shelter House Thunder Bay.  We must do better to address the gap between the increasing number of individuals experiencing homelessness and the kind of sustainable funding that is needed to manage this trajectory.  Homeless people are not getting the food and services they need. Funding and psychosocial stressors from frontline staff are some of the biggest challenges faced in Thunder Bay and nationally, as evidenced in a recent study. The additional investments in the 2023/2024 budget should start with filling in the funding gaps and looking at the root causes of these challenges and developing/ implementing recommendations to address them. All lives matter and we cannot lose another person due to systemic inequity."
– Rosemary Moonias, MFNM Board President
"We are truly grateful for Matawa's leadership, confidence, and continued investment in Shelter House. Our organization is familiar with working in crisis and stretching our resources to ensure that maximum value is achieved, however the perfect storm has been brewing and we are currently facing a crisis that is threatening our very core. With pause, we look ahead at the possibility of having to reduce our core services further.  It can be difficult to see the challenges of homelessness and hunger from the comfort of our homes; however, I can assure you that things are becoming increasingly difficult out there as we see a rise in complex people accessing our services and a lack of resources to fill the bill. Shelter House is in it for the long game and with the community's investment we can turn this around to ensure that there will be no further erosion of our services."
– Cal Rankin, Shelter House Thunder Bay Executive Director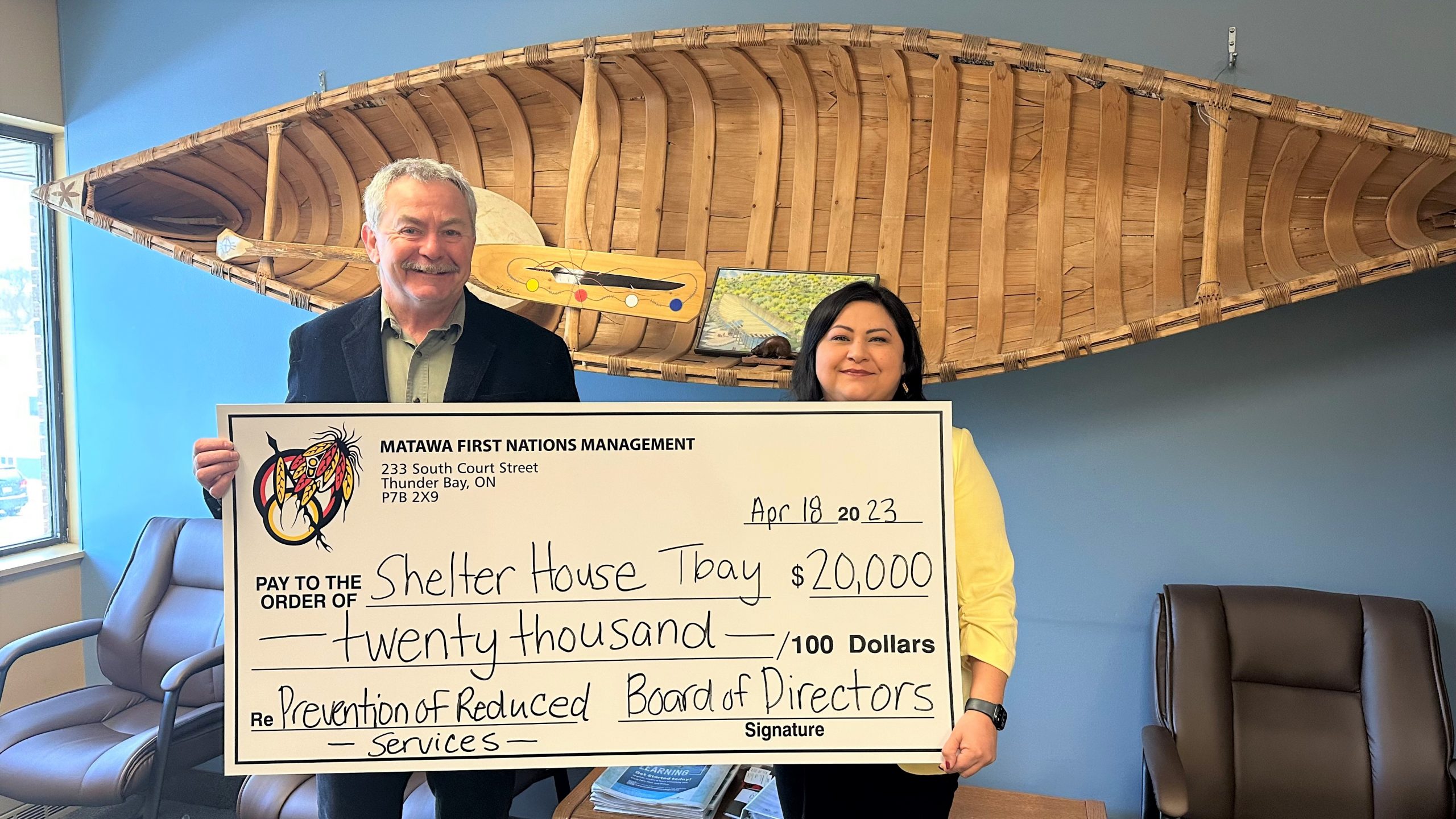 — 30 —
For more information, please contact
Carol Audet, Matawa Communications Manager at (807) 632-9663 or by email at
caudet@matawa.on.ca
.