Economic Development
Matawa Economic Development works with the Matawa First Nations to develop, promote and support a diverse private sector and entrepreneurial culture. It works to create 'opportunity-ready' Matawa First Nations and to foster economic growth and success through economic and business development. It assists Matawa First Nations develop infrastructure, businesses and human capital to grow local economies. It also works with Matawa First Nation community development corporations to build capacity and develop projects and business opportunities to become more self-sufficient.
Matawa Economic Development provides project incubation, project management, business management, and general management for many regional initiatives across different sectors including mining, forestry, tourism and energy. A number of Committees in these areas provide leadership and guidance on strategic economic development initiatives.
Partner with us, Invest in us.
We are engaging partners from all over the world and across cultures to develop economic strategies for developing and growing business within our traditional territories. As stewards and protectors of the land, we analyze business opportunities with environmental, social and economic development objectives that respect our traditional values and knowledge for sustainable economic development.
Rapid Lynx Telecommunications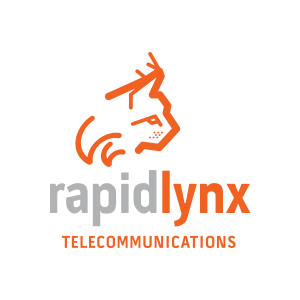 Background
The Broadband Project was established to improve the internet services and enhance the overall quality of life in 6 Matawa First Nation communities. The 6 communities that are part of the Broadband Project are: Aroland, Eabametoong, Marten Fall, Neskantaga, Nibinamik, and Webequie.
A working group was also formed by representatives of the 6 communities along with Matawa First Nations Management to find ways on how to access affordable high-speed internet for all community members within the remote communities. As a result of identifying the need to build a broadband network to the remote communities, the working group then formed the Rapid Lynx Corporation which will be owned and operated by the Matawa First Nation communities.
There is approximately 810 km of heavily armored fibre optic cable that will be installed 3 feet underground and under water from Aroland to Nibinamik. With connections from:
Aroland to Marten Falls – 222 km
Marten Falls to Fort Hope – 162 km
Fort Hope to Neskantaga – 166 km
Neskantaga to Webequie – 116 km
Webequie to Nibinamik – 144 km
Construction has begun with brush and clear cutting (February 2020). The estimated completion date of the project is March 2023.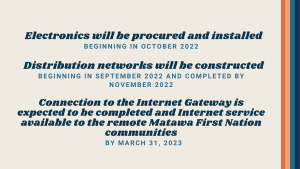 For more information about the Broadband Project contact Wayne Slipperjack, Rapid Lynx Manager-In-Training at: (807) 344–4575 or wslipperjack@matawa.on.ca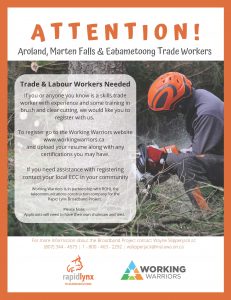 Native Camp Operators Alliance
The Native Camp Operators Alliance/Moccasin Trails Adventures is a group of remote, fly-in fishing and hunting outpost camps owned and operated by First Nations Peoples in northwestern Ontario. For almost 20 years, they have been providing top-top wilderness vacations. GPS coordinates on Google Earth are: 
Chipai Outpost Camp – 52° 53′ 01″ N x 87° 51′ 16″W
Kanuchuan Outpost Camp – 52° 58′ 43″ N x 87° 43′ 55″W
Ozhiski Outpost Camp – 51° 55′ 57″ N x 88° 35′ 34″ W
Wapikopa Outpost Camp – 52° 57′ 22″ N x 88° 0′ 59″ W
Most camps are beautiful, rustic log cabins handcrafted by the owners themselves. The camps are located within 3 of the 5 largest watersheds in Ontario, all of which drain into either Hudson Bay or James Bay. The most northerly is the the Winisk River which is 275 miles long and drains into Hudson Bay. The Ojibwe word 'Winisk' means 'groundhog.'
Most camps are remote and accessible only by float plane. Vacationers fly into the Thunder Bay International Airport and flying on to Pickle Lake, Ontario where the float plane base is located. Driving to Pickle Lake, Ontario is also possible and is about a 6 hour drive northeast of Thunder Bays. Guests who have their own plane fly into one of the First Nations communities to meet their guides there. Youth discounts are offered for 17 years or younger.
For more information go to: www.moccasintrailsadventures.com
For questions, or to book a package, contact:
Jeff Haug
2436 N 800W
Frankfort, Indiana, USA 46041
1-765-242-6717 or jeff@moccasintrailsadventures.com
Subscribe TODAY
Sign-up to receive the MATAWA MESSENGER, a quarterly newsletter highlighting Matawa First Nations news and events.