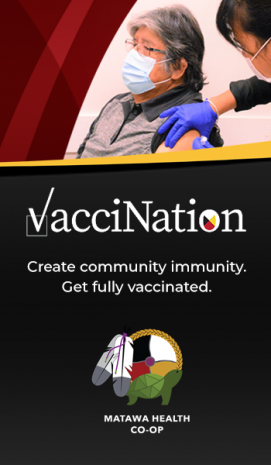 As protectors of the land, let's also be the protectors of our people. The more people in Matawa communities that get the vaccine, the sooner we can get back to our normal.
Having questions about the vaccine is totally normal. Matawa Health Co-operative has all the information you need about the vaccination process, potential side effects and so much more.
Did you know a vaccine gives your body a "training run" so it develops defences to a disease without having to get sick first?
COVID-19 vaccines have been developed, tested and approved using the same process used for other successful vaccines.
DO YOU PLAN TO GET THE COVID-19 VACCINE? WHAT ARE YOU WAITING FOR?
Get back to YOUR normal. Protect others, yourself and the community.
Book an appointment, attend a community clinic.
Matawa Health Cooperative is now booking 4th dose boosters for 18+ First Nations, Inuit and Metis individuals (as well as 1st, 2nd, 3rd doses for those 12 and older). The minimum interval for the 4th (booster) dose is three months.
Weekly clinics are being offered. Please call (807) 346- 2370 to book an appointment.
If you would like to book an appointment for a youth aged 5 to 11 that still requires the completion of their 2-dose COVID vaccine series, please calll (807) 346- 2370 to book an appointment.
For more information on dose recommendations click here.
To learn more about youth vaccinations click here.