Matawa Health Co-operative
Incorporated in 2017, the Matawa Health Co-operative (MHC) is a Matawa First Nation owned and controlled health co-operative that provides health care services to enhance existing health services to achieve long-term health and well being for all members within the nine (9) Matawa First Nations.  It is overseen by a Board of Directors and is a member of the Health Care Co-operatives Federation of Canada. The MHC is community-driven with available services being tailored to individual community's needs. It is the first of its kind in Canada.
The MHC works to incorporate traditional healing and medicines in addressing the holistic health needs of the Matawa First Nations focusing on the priorities of mental health and addictions, diabetes and chronic diseases. It oversees an Inter-Professional Primary Care Health Team providing direct services in the Matawa First Nations or through telemedicine. For more information, see the:
INTRODUCTION LETTER TO HEALTH PARTNERS
The MHC works in partnership with several groups, organizations, agencies and institutions affiliated with First Nations that provide health care and/or programming. It also works in partnership and collaboration with the Matawa Health and Social Meno Biimadeswin.
Keep up-to-date on MHC activities here:  Matawa Health Co-operative Facebook
Click this link to listen to the Each for All Co-operative Connection April 28, 2021 Radio Show:  Matawa Health Co-operative & the Response to the COVID-19 Pandemic.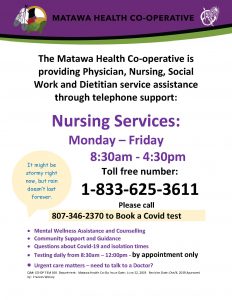 ---
Getting Your Proof of Vaccination
As of September 22, 2021, you will need to provide proof of vaccination to access certain businesses and settings to help further protect Ontarians from COVID-19 and the Delta Variant. An enhanced vaccine certificate with a unique QR code will be available as of October 22, 2021.
GET YOUR PROOF OF VACCINATION HERE: https://covid19.ontariohealth.ca/
---
COVID-19 Testing
Effective May 4, 2021, we will be testing 5 days a week on Mondays to Fridays from 9:00am – 1:00pm outside in the trailer (Court Street Location). Please call 1-807-346-2370 to book a test. We are only accepting pre-booked appointments and no walk-ins.
Information required for testing – name, date of birth, health card #, address and contact phone number. Travel information (date/community) or symptoms.
Regular COVID Testing
Results in 24-72 hours
Designated for anyone travelling to Matawa communities
Designated for members who are symptomatic or identified as a close contact.
Rapid COVID Testing (YOU MUST FIT CRITERIA FOR RAPID TESTING/PROOF REQUIRED)
Essential workers entering Matawa communities within 24hrs

Medical professionals (physicians and other regulated health care professionals.
Police (NAPS/OPP) Firefighters, Army (Canadian Rangers)
Contractors being sent to Matawa communities
Matawa members who fit the criteria
If you are required to have proof of COVID-19 test prior to travel (airline or community requirement), it is highly suggested to book your test 2-3 days and self-isolate until travel to communities.
If we are unable to accommodate your testing request, please contact the Thunder Bay Assessment Centre at 1-807-935-8100.
Online results can be found at:
http://www.publichealthontario.ca/en/laboratory-services/test-results
---
Support for Matawa Members in Thunder Bay Testing Positive for COVID-19
Support is available for Matawa members testing positive in Thunder Bay and are in isolation. If you require support, call the COVID Support Team at, 1-807-632-0713 or email: matawa.support@matawa.on.ca – services available from Mon – Fri from 8:30 am – 4:30 pm.
---
COVID-19 Vaccinations in Thunder Bay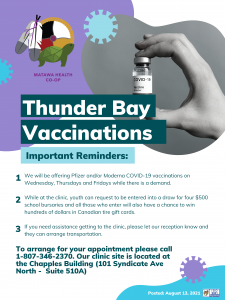 233 Court Street South, Thunder Bay, ON, Canada